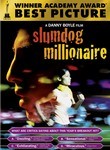 Slumdog Millionaire (2008)
Director:
Danny Boyle, Loveleen Tandan
Writer:
Simon Beaufoy (screenplay) Vikas Swarup (novel)
Starring:
Dev Patel, Freida Pinto, and a bunch of indian children
Synopsis
a kid from the slums of india with no schooling wins "who wants to be a millionaire" in india. the story of his life, and how he knew the answers to the questions
MOster
I really enjoyed this movie. I'm usually a big fan of Danny Boyle, and this showed that he's continuing to mature. His "signature" chase-through-the-crowd scene was a good example of that. But it wasn't all as super-duperlative as the Best Picture moniker tried to lead me to believe.
Everything worked in this film, including the younger actors. The story was interesting and engaging, and game show aside it did a good job of showing how difficult it must be to make anything of yourself if you're a "slumdog." The only real critique (will quibble) I have is that the use of the police station as the framing device got to be a little redundant; it could have just evolved into VO, or just cuts to the game show.
But there was just something missing for me here. It's the je ne sais quoi that would have pushed it from a four to a five.
The Woman
this was really good. i thought "doubt" was better, and more oscar worthy, but that's just my opinion. i do not belong to the academy. this was a long movie, but it was good so it wasn't really noticed. i dug stuff. yay.