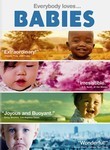 Babies (2010)
Directed by
Thomas Balmès
Written (?) by
Thomas Balmès, Alan Chabat
Starring
Bayar, Hattie, Mari, Ponijao
Synopsis
babies! four babies. one from tokyo, nambia, mongolia, and san fran. from birth to walking. cuteness abound.
MOster
I think tiny babies are very cute. If you think tiny babies are very cute then you will enjoy spending 80 minutes watching this movie. Don't expect to learn anything, though.
The Woman
holy crap. this movie is warm fuzzies. if you like watching babies and you're having a down day, may i suggest melting your insides by watching the cuteness that is this movie. there is no dialog. you don't have to deal with the parents very much at all. it's just babies. doing baby things. there's some sibling involvement and some animal walk-ons, but that only works to reinforce the giggling. if we are sarcastic curmudgeons and we think this movie is like kittens on a cloud...damn.
also if you have young children that are driving you slightly insane with their crabbiness. sit them in front of the tv and this will keep them entertained for at least a half an hour.