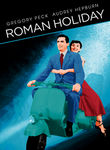 Roman Holiday
(1953)
Directed by
William Wyler
Written by
Ian McLellan Hunter, John Dighton
Starring
Audrey Hepburn, young hot Gregory Peck, Eddie Albert, a whole host of actually Italian people
Synopsis
A princess
from an unnamed European country (which was probably a joke 50 years ago that I don't get today) gets pissed off at all the bullshit and runs away. She intends to go for a couple of hours, but since her handlers drugged her she ends up being away for a full day. She meets a reporter and he takes her around the city, starting as a bottom feeder (promising the story to his editor and a piece of the dough to his photographer friend) they end up falling in love. (spoiler alert?) Bittersweet ending.
Woman
i have seen this before and i disliked it then, aaaaaand i still dislike it. i grrrrrred and pouted when moster put it on the queue, and i grrrred and pouted when it came to the house. i don't know why. i just find it stupid. they fall in love in less than a day. eye roll. she has a taste of life, wonderful life. then she, boo-hoo, goes back to her life of obligation not as a child, but as a woman. somebody please hand her a cross. slumming it is so attractive.
MOster
I don't know why Leila hates this movie so much. I thought it was very nice and actually bittersweet. The story is simple, but that doesn't matter. The little things they do and the sights they see make for a bunch of fun scenes in a row. While it's unlikely that they would have a nice long life together if they had even tried, I buy that they felt the love that they showed, and I really liked the looks in the last couple of scenes.
Hepburn here does a great job as little more than "herself," Gregory Peck just smolders, and Eddie Albert has fun as the photographer, getting what little "zany" there is to be had. The ass-sticks in the castle really come off as they should, and the little bit of local flavor also does a good job... especially since for many of them English isn't necessarily their first language.
The directing here was competent, if not mind-bending; but it doesn't have to be mind-bending. There were some really cool shots in a couple of spots, with the best sequence being the party-on-a-barge which turns into an all-out brawl. The rest of the production was also admirable, and again I appreciate how much of this was filmed in Italy with Italians.
I think this was a fine move and I do recommend it. It would make a good date movie with 95% of the female population, I think.
I will fight for the 3 on this one.