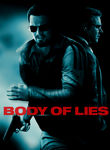 B
Body of Lies
(2008)
Written by
William Monahan, David Ignatius (book)
Directed by
Ridley Scott
Starring
Leonardo DeCaprio, Russell Crowe, Archie from
RocknRolla
Synopsis
Up-and-coming Middle East field agent engages in various operations while supported / sabotaged by his handler. As he advances in
The Agency
he starts to run his own stuff and becomes friends with the head of Jordanian intelligence. There's a kind of a love interest and more shit happens. Then the movie ends.
The Woman
yeeeeaaah. i labored over putting this on the queue, and i specifically remember not putting it on intentionally and then something changed my mind. i wish that something never existed. this movie was stooooopid, convoluted, and uninteresting. my viewpoint is not surprising to me since that is how i've felt about every ridley scott movie since blade runner. why, oh why, did i put this on our queue. two hours of BOOM! gunshots! terrorist! boring plot! jeebus we have another hour!?! i think mr. scott may have a talent for making me not care about the characters he puts on screen. "gladiator" was one of the worst, uninspiring movies i've ever seen, and i will never understand the "best picture" it received. this was a close second. it's like you can feel the swollen ego of both crowe and scott oozing from the screen. leonardo dicaprio is a good actor. i've seen proof of this fact in other movies. in this, however, it was almost as bad as a huge budgeted cable access movie. i think everybody involved in this has, undeservedly, gotten a little too big for their britches and pooped out this movie. this could have easily been replaced with "kingdom of heaven" "black hawk down" or "gladiator" and i wouldn't have noticed a difference.
MOster
I took a ton of notes while we watched this and I don't really know why because it was pretty dumb. I was disappointed that (spoiler alert)
nobody dies
because the lame political points would have been stronger if
there were some actual consequences.
I suppose everything else seemed realistic enough but the story wasn't engaging on any level. Scott usually has a way of communicating an aesthetic point of view, but everything here muddies together. There are a few tricks which he uses once which shouldn't have been used at all (e.g. shakicam, staticy credits) but everything else is just flat. Other production elements are also flat and uninspiring.
Except for the acting, which inspired me to take a dump. Crowe is doing some sort of generic Texas affect thingy (because he's playing an American) but Leonardo appears to be channeling W. Each of their accents is coached well enough to not be an outright distraction, but only just, and when we get to the few scenes where the DiCaprio character is supposedly expressing personal (read: romantic) interest in the unattainable chick of the day it really feels like he's doing a broad-strokes impression, replete with sidelong glances and wide eyes.
This movie is over two hours long (as Leila says, "It's Ridley Scott. Of course it's two hours long!") and I think it was just as much of a waste as
Lie with Me.
At least there were blowjobs in that one.